The Xpert for Regulatory Programs Consumer Safety and RoHS Compliance
The Xpert for Consumer/RoHS, a convenient, compact & lightweight XRF analyzer for regulatory compliance programs, provides accurate Pass/Fail results within seconds. It is completely independent of an external PC and can be powered by battery for ease of transport to wherever testing is needed.
The Xpert, XP-6500-CC, for Regulatory Programs is a compact and transportable X-ray fluorescence (XRF) analyzer optimized for Consumer Product and RoHS regulatory compliance programs. It has a well-lit, viewable sample chamber, touch-button operation, integrated camera, and a selectable analysis spot size.
Action levels for Consumer Products and/or RoHS regulations are preprogrammed for rapid Pass/Fail results. The Xpert for Consumer/RoHS Regulations has a safe and secure closed-beam configuration and operation is completely independent of an external PC. It can be powered by battery and is lightweight making it easily transportable for wherever and whenever testing is needed.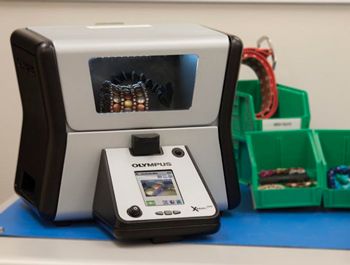 Comply with Global Regulations
The Xpert for Regulatory Programs is a fast, accurate, and cost effective XRF analyzer optimized for analysis of lead (Pb), cadmium (Cd), arsenic (As), mercury (Hg), chromium (Cr) and other toxic elements in metals, plastic, and mixed materials. It provides detection limits that are well within typical regulatory limits in most materials. It provides the ability to test not only at retail locations, but also at loading docks and manufacturing sites to screen imported/exported toys, jewelry, clothing, electronics, and other consumer products before they become a problem.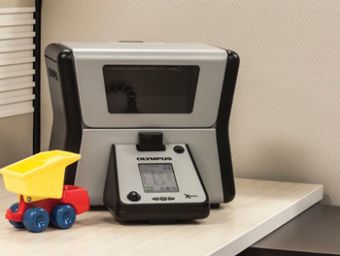 Reliable and Easy-to-Use
Regulators and industry stake holders depend on XRF analyzers for rapid product and component screening to monitor compliance with CPSIA, RoHS, WEEE, EN71-3 and other regulations. Olympus worked with stakeholders well before the July 2006 EU RoHS Directive went into effect to provide the best possible XRF user experience to meet the impending regulatory requirements. Olympus continues to follow the development of global regulations to ensure its analyzers and technology stay ahead of the regulatory requirements. And, we continue to stay in touch with industrial and regulatory XRF customers to meet and exceed their expectations with technology advancements and value-added features.
Operation is simple and straightforward. An object is placed directly on the analysis window or, if small, secured in the sample holder to orient it. The chamber door is closed and the operator presses "Start" to acquire results. The small spot collimator is used for very small objects or for small areas on an object. A digital image of the object can be stored and/or sent along with the analytical results directly to a printer in report format, completely independent of an external PC.
Benefits
Fast and nondestructive detection of restricted elements
Accurate with LODs as low as 1 ppm
Safe, closed-beam XRF system
Archivable results for regulation compliance
Easy-to-Use
Operates completely independent of a PC
Responsive, bright, color touch-screen display
Large LET-lit sample chamber
Analysis indicator light with 360° visibility
Large data storage capacity for test archiving
USB interface port for high-speed data export, printing, external keyboard, and remote control
Portable Operate with optional battery for mobile off-site use
Fast, Accurate, Advanced Technology
Advanced Silicon Drift Detector (SDD) for low LODs
4 W X-ray tube, 200 µA current (max), plus optimized beam settings for accurate analysis
Floating-point processor delivers fast results, with seconds
Smart sensor that automatically classifies the sample type into Plastic, Alloy, or Mixed for accurate results
Integrated camera to record analysis images
Small spot collimation down to 3 mm for small samples or small areas on a sample
Enhanced User Experience High-Performance Features
Camera and Collimator
The Xpert is equipped with an integrated CMOS camera that records sample images to memory along with the analysis results for report generation. X-ray beam small spot collimation is for measurement of small components and samples. A simple tap on the touch screen in camera view activates the small spot 3 mm or standard spot 10 mm diameter collimation. An on-screen indicator shows the operator exactly where the analysis spot is focused.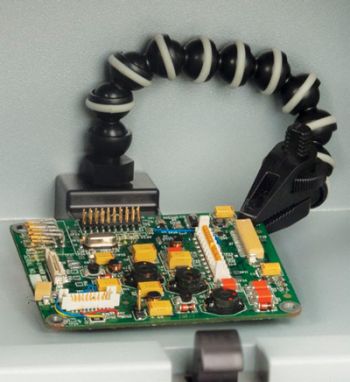 Customized Reports for Certification
The Xpert PC reporting software customizes and facilitates immediate report generation, including analysis results, qualitative sample information, spectral information, and sample image. Traceable documentation makes the Xpert the ideal tool for a Reasonable Testing Program (RTP)
Smart Sense Clarification
The Xpert automatically determines sample type (polymer, alloy or mixed) and optimizes measurement conditions accordingly. It recognizes non-homogeneous ("mixed") samples to alert the operator, which is critical for error-free operation. The Xpert also distinguishes if Pb is in the surface or in the substrate.
Tự nhận diện thông minh
Xpert tự động xác định loại mẫu (polymer, hợp kim hoặc hỗn hợp) và tối ưu hóa các điều kiện đo phù hợp. Nó nhận ra các mẫu không đồng nhất (dịch trộn lẫn) để cảnh báo cho người vận hành, điều này rất quan trọng đối với lỗi bất thường. Xpert cũng phân biệt nếu Pb ở trên bề mặt hoặc trong chất nền.
Specifications
Dimensions
267 mm x 310 mm x 340 mm (10.5 in. x 12.5 in. 13.4 in.) (with door closed)
Weight
10 kg (22 lbs)
Power Requirements
Provided with 100 VAC to 240 VAC, 50 Hz to 60 Hz, 70 watts power supply
Excitation Source
4 W, 40 kV, 200 µA (max.) X-ray tube
Anode: Au or Ta
Detector
Si Drift Detector
Environmental Temp Range
-10 °C to 50 °C (14 °F to 122 °F)
Camera and Collimator
Integrated with measurement geometry; small-spot collimator; selectable diameter sizes (3 mm or 10 mm)
Power
AC power adaptor or rechargeable Li-ion battery
Data Display
55 x 73 mm (2.2 x 2.9 in.) Color LCD touch screen
Resolution: 720 x 320
Element Suite
Pb, Cr, Hg, Br, Cd, Cl, Tl, Fe,Co, Ni, Cu, Zn, As, Bi, Se, Sn, Sb, Ba
Standard Accessories
Collimator Test Coin
Sample Holder Clip with Articulating Arm
USB Cable
316 Stainless STeel Calibration Check Reference Coin
Ten (10) spare windows
Three (3 styluses)
Factory Authorized Training and Support
Applications
Worldwide Restricted Hazardous Substance Regulations and Testing Methods
EU RoHs Directive (2011/65/EU)
EU WEEE Directive (2012/19/EU)
China RoHS
Japan RoHS
Korea RoHS
USA CPSIA (HR4040)

USA Halogen Free Directive
California Proposition 65
USA ASTM F2617-08
USA ASTM F963
CPSC-CH-E1001-08.3
CPSC-CH-E1002-08.3
Xpert for Regulatory Programs Performance
The Xpert combines regulatory recommended XRF technology with multiple value-added features to provide the ideal tool for a Reasonable Testing Program (RTP), affording economy of operational costs, space, and time with a seamless integration of data and results.
Xpert XRF analyzers offer accurate, sensitive analysis with easy-to-use reporting software in an ergonomic and dependable package. It offers detection of limits that are well within typical regulatory limits in most materials.
Regulatory Compliance Concentration Limits
Element/Regulation
RoHS/WEEE
Consumer/CPSIA
Cd
  <100 ppm
  N/A
Cr
  Cr6+ <1000 ppm
    N/A
Hg
  <1000 ppm
    N/A
Pb
  <1000 ppm
<100 ppm substrate
<90 ppm surface
Br
  PBB PBDE
<1000 ppm
  N/A