1. Overview
The mercury analyzer RA-915M is a unique all-purpose high sensitivity analytical instrument for measuring mercury, especially for the real-time detection of mercury vapor in air, mercury detection in water, natural and stack gases, oil and condensate, solid and sediments, foodstuff and so on.
RA-915M Mercury Analyzer is a portable multifunctional atomic absorption spectrometer with Zeeman background correction, which eliminates the effect of interfering impurities. It is the only high sensitivity and selectivity instrument that does not require gold amalgam pre-concentration and subsequent regeneration steps. This enables the user to conduct real time monitoring and detection of mercury vapor. Being combined with an RP-92 Cold Vapor accessory for water and PYRO-915+ pyrolysis attachment for solid sample testing, the instrument is designed to determine mercury content in ambient air, water, soil, natural and stack gases, dental and medical testing and diagnostics, analysis of food and marine life, etc., the mercury detection limits being as low as 0.5 ng/m3 in air and 0.5 ng/l in water.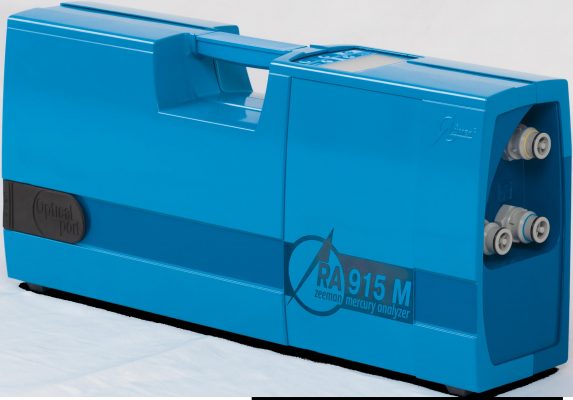 2. Features and benefits
simple to operate, fully automated, self validating analyzer;
rugged/Versatile design for laboratory and field mobile conditions;
ultra low detection limit and highest selectivity;
real-time operation mode for air and gases;
direct determination of mercury in liquid and solid matrices within 60 seconds (attachment required). No sample preparation, no use of hazardous chemicals or bottled gases ;
built-in performance verification test cell and auto zero function;
wide dynamic measuring range (four orders of magnitude);
controlled by a keypad or a computer via USB interface;
data logger for 122 hrs of data acquisition, averaging, and storage;
rechargeable battery for up to 12 hours operation.
3. Specifications
Dimencitions: 470 x 110 x 210mm

Weight: 7kg

Power supply: 100 – 240VAC, 12VDC
4. Applications
Ambient air

Natural and other gases

Water and solutions

Solid samples (soils, rocks, coals, sediments)

Sorbent traps for stack gases

Biological samples (tissues, liver, blood, hair, etc)

Oil and oil products

Foodstuff, plants